Mark talks with Kara M. Riley, the Oro Valley Chief of Police in a very interesting and thought-provoking episode. You may be surprised what lengths the Chief goes to ensure the residents and community of Oro Valley are so proud of their police force.
About Kara M. Riley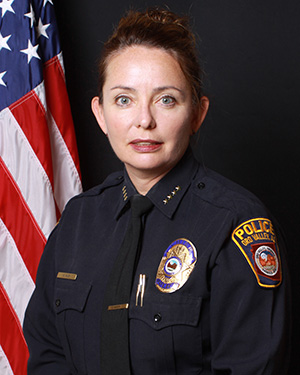 Kara M. Riley had the fortunate opportunity to grow up overseas in Taiwan, Abu Dhabi and Sudan, Africa with her parents and four siblings. Kara holds a bachelor's degree from the University of Arizona in Sociology and a master's degree in Education.

She also graduated from Northwestern University Police Staff and Command School and from class 261 at the FBI National Academy. Kara worked in the corrections field for five years. Since February 1992, she has been a police officer. During her career, she became a mom to her daughter who is attending the University of Arizona.
Oro Valley has grown from 1,500 residents in 1983 to approximately 43,565 today. The town has expanded from 4.5 square miles to nearly 36 during the same time. By comparison, the police department has grown from five commissioned officers to 104 commissioned officers and 31.25 civilians. In addition, we have a volunteer group that is second to none.
Oro Valley is proud to be one of the safest cities in Arizona. The dedication, vigilance, and professionalism of all members of the Police Department provide for a safe and secure community for all those who live and visit Oro Valley.

Website: www.ovpd.org LinkedIn: linkedin.com/in/kara-riley-aa509690
Twitter: https://twitter.com/OroValleyPD?ref_src=twsrc%5Egoogle%7Ctwcamp%5Eserp%7Ctwgr%5Eauthor
Facebook: https://www.facebook.com/OroValleyPoliceDepartment/