ABOUT ~ Christine Ricci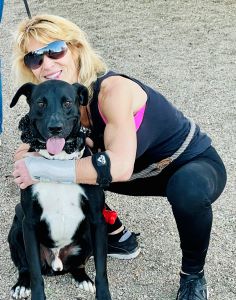 I was raised in Providence Rhode Island. I attended several schools both night and day classes to fit my lifestyle at CCRI.  
I devoted a large part of my years to raising my two girls before I went back for more schooling online. 
My business was born out of both my passion and frustration at seeing good dogs go down. I used to practice what I do for my own pure enjoyment when I'd take my girls to the part after school, while they played on the playground I would work with dogs that were there.  
 
I had an injury that changed my life, forced me to switch gears and do what I now do full time. 
Bella Dog Psychology works with all dogs, specializing in both early puppy development teaching humans how to avoid needing my services later on, and the reactive (vicious) dogs where I'm their last resort before being euthanized. I get both puppies and reactive dogs sent to me from all over the country.  
 
On a calmer note, I train federal ADA service dogs for people with disabilities, I have much stricter standards than the government as I will not graduate any pup that doesn't pass all 15 tests vs the 12 required by the ADA.  
Company / Organization Website URL:  WWW.BellaDogPsychology.com