ABOUT ~ BAMBI KRAUS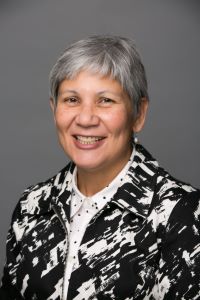 Prior to joining the FCC, Ms. Denise Bambi Kraus served as the National Tribal Affairs Advisor for the Federal Emergency Management Agency.  
Her other previous leadership roles included serving as a founder and executive director of the National Association of Tribal Historic Preservation Officers, a national nonprofit organization devoted to American Indian, Alaska Native, and Native Hawaiian cultural preservation.  
 
Since graduating from Stanford University, Ms. Kraus has resided in Washington, DC, and has been committed to working with and advocating for Native rights. She worked as a senior advisor for President Clinton's Initiative on Race, assistant director of the National Indian Policy Center, and museum technician at the National Anthropological Archives of the Smithsonian Institution.  
 
Ms. Kraus is Tlingit with family from Kake, Alaska.  Among other achievements, she completed a children's book in 1998 with and about her mother, Frances Nannauck Kraus.  
For a full list of eligibility requirements and more information, visit GetInternet.gov. 
FEDERAL COMMUNICATIONS COMMISSION'S AFFORDABLECONNECTIVITY PROGRAM CONNECTS ELIGIBLE HOUSEHOLDS ON QUALIFYING TRIBAL LANDS TO THE INTERNET WITH MONTHLY SAVINGS

Program helps households get and afford the internet service they need for work, school, health care and more.