About ~ Chuck Williams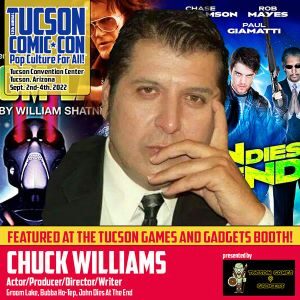 An Actor/Producer/Director/Writer with over 60 Films and Television shows to his credit. He is currently in production on his new feature film, M35.  
 
Mr. Williams is CEO of Avondale Pictures and completed movies like "Shake Off the World", "The Faith Club" and, most recently, his Western "The Righteous Twelve", which was filmed in Tucson, Arizona and directed by Chuck. He is also involved with several charities and sits on several boards. He travels around the world as a positive and influential speaker.  
 
Links: Website URL: Avondale Pictures – Movies, Films, Dvds Facebook Page URL: Chuck Williams Master Acting Class | Facebook   
You can watch Chuck's movie trailers here: The Rightout Twelve: "Twelve bad men come to the aid of a small town." (18) The Righteous Twelve – Official Trailer 1 – YouTube Shake off the World: "Rising high-school football star Austin is sidelined by his coach, setting off a chain of events. 
 
As he navigates his new friends and family, Austin finds himself on a collision course with bullies at his new school and realizes that "winning" the game of life is best accomplished through faith.." (18) Shake Off The World (2015) | Trailer | Brett Hargrave | Aaron Mees | Montana Jacobowitz – YouTube Amazed by You: : "What happens when "city slicker" Christian Andrews is thrown into a cowboy world of five sisters, two bullies, a load of cattle, a grungy dog, and the woman who runs it all, with only his faith to guide him through it?." (18) Amazed By You Official Trailer – 

https://www.youtube.com/watch?v=-DLXg53kFmE - Shake Off the World trailer. 
https://www.youtube.com/watch?v=EpMEC_49U_I - Amazed by You trailer.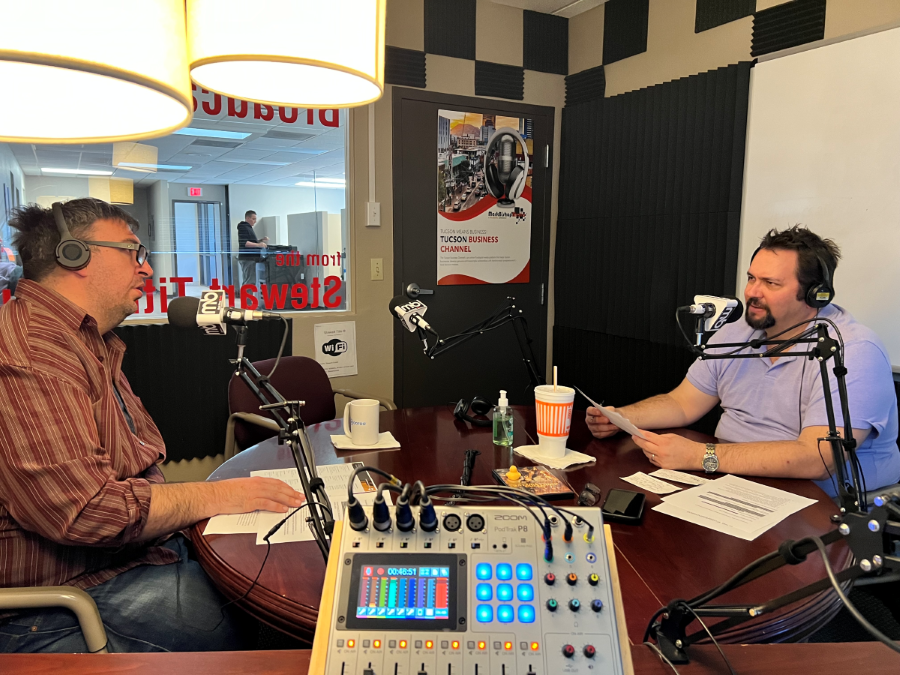 Meet the Hosts:
About ~ Ben Freese
Ben Freese, a writer, director, actor and editor in the movie industry is the host of this exploratory emporium of ideas and insights into the local scene here in Tucson. Ben, with his trusty co-host Zach Rhein (himself a local producer, filmmaker and writer), sets out to make movies fun and entertaining while pushing what the local community has got going on. With his upcoming directorial debut feature film, "In Terror" releasing in 2023, Ben has his plate full with new upcoming projects as well, like his short horror film "Witchery". Ben loves to chat it up with his guests every month and hit it off with his buddy Zach the only way they know how: Talking about the movies!  
Contact number: (520) 909-9170 
About Zach Rhein:
Zachary or Zach for most people is originally from Spokane, Washington and developed a love of the arts at an early age. One of my earliest experiences making movies was helping on a music video a friend.  
I then moved down to Tucson, AZ where I continued my love of the arts and joined the theater department. While I didn't pursue acting I rediscovered my love of filmmaking and am ready to become the local mogul. 
While I may not have decades of experience handling a full fledge business, I make up for it in my drive and determination and am willing to learn from the school of hard knocks. 
My current business is In Flight Productions, a local film production company ready to make high quality movies of all genres that give people a chance to see themselves in the movie. 
Contact number: (520) 975-0847 
Email: 
zachary.rhein0925@gmail.com 
ABOUT THE SHOW
Each month, we take a deep dive into the state of the movie industry, with a focus on local Tucson projects. Every month, we will have a guest from who started in the Tucson independent scene and pry their brain for knowledge of filmdom while we hype their latest works. 
W
HY MOVIES MATTER
During the course of our podcast, we will go over details such as the past month's box office, the top wrung movies, independent film, Blu Ray and 4K releases for the diligent movie fan and ending with a on Tucson talent, including a podcast guest connected our local film industry.  
SHOW GOALS
We are here to educate and have fun discussing film. Explore what Tucson has to offer in a meaningful way and entertain while doing it. We have arrived!