ABOUT: Nicholas Rivera

I was born and raised in Tucson, Arizona. I went to Tucson High, Pima College and Graduated from the University of Arizona's School of Theatre, Film and Television. I was an actor for just over 11 years. I was in several local commercials, infomercials and was in the movie Confessions of a Dangerous Mind. After a lot of soul searching and endless auditions. I decided that my talents were best behind the camera either writing, directing, producing and more recently Film Composing.
I've worked in the entertainment industry for over 20 years. I've been an active film composer for the last 10 years working on various projects. Beit web based, promotional or recently films indy films like Just desserts, Witchery and Interror. I'm also a paid reviewer for SampleLibraryReview.com, where I review sample libraries and give the pros, cons and advice for how to get the most out of the products. I've been in numerous prestigious contests including HBO's- Westward, CW's- Star Girl, Netflix's- Bridgerton and Trailer music for the Independent movie Tellurian.
I'm currently writing a collection of serials that I would like to publish in graphic novel form and compose music for them and create a play-a-long experience. Very much harkening back to the days of old radio shows where listeners heard the story in a cinematic way. I even tasked Ben Freeze to help on one of the serials, called A Hell of a Way to Go.
Company Name: RebelNMotion Studios 
Company Number: (520) 370-1534
Company Email: rebelnmotion@gmail.com
Company Website: https://www.youtube.com/@nickrivera9741/videos
Company Twitter: https://twitter.com/scoreonyx
Company Facebook: https://www.facebook.com/nick.rivera.146069/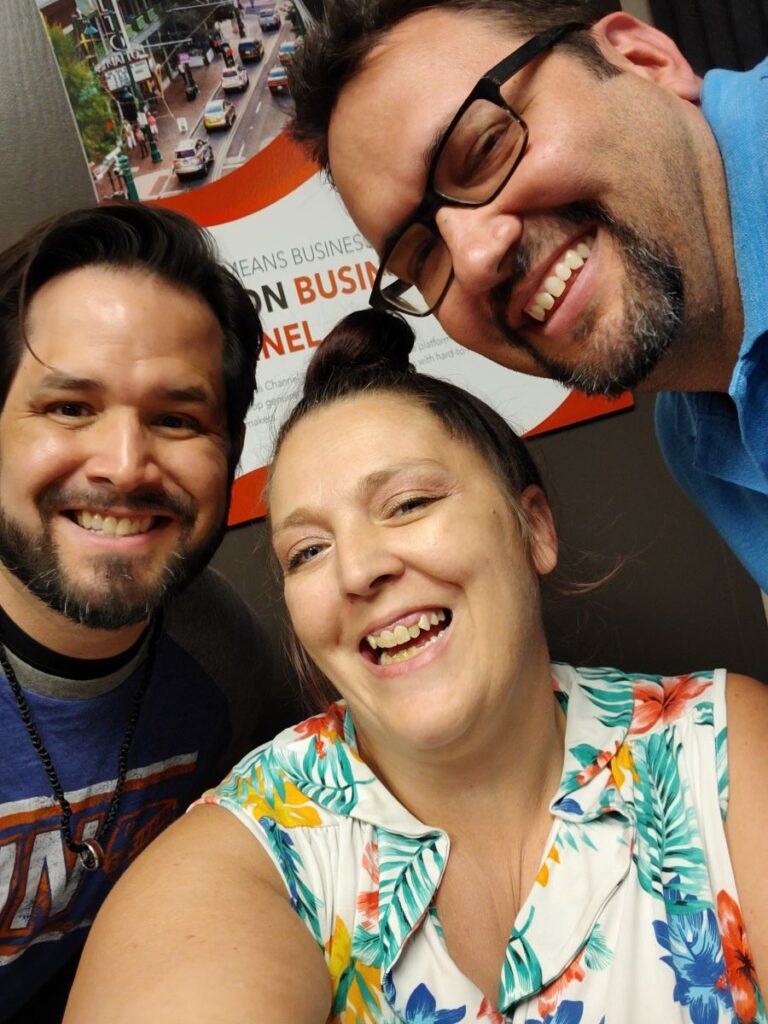 Meet the Hosts:
About ~ Ben Freese
Ben Freese, a writer, director, actor and editor in the movie industry is the host of this exploratory emporium of ideas and insights into the local scene here in Tucson. Ben, with his trusty co-host Zach Rhein (himself a local producer, filmmaker and writer), sets out to make movies fun and entertaining while pushing what the local community has got going on. With his upcoming directorial debut feature film, "In Terror" releasing in 2023, Ben has his plate full with new upcoming projects as well, like his short horror film "Witchery". Ben loves to chat it up with his guests every month and hit it off with his buddy Zach the only way they know how: Talking about the movies!  
Contact number: (520) 909-9170 
About Zach Rhein:
Zachary or Zach for most people is originally from Spokane, Washington and developed a love of the arts at an early age. One of my earliest experiences making movies was helping on a music video a friend.  
I then moved down to Tucson, AZ where I continued my love of the arts and joined the theater department. While I didn't pursue acting I rediscovered my love of filmmaking and am ready to become the local mogul. 
While I may not have decades of experience handling a full fledge business, I make up for it in my drive and determination and am willing to learn from the school of hard knocks. 
My current business is In Flight Productions, a local film production company ready to make high quality movies of all genres that give people a chance to see themselves in the movie. 
Contact number: (520) 975-0847 
Email: 
zachary.rhein0925@gmail.com 
ABOUT THE SHOW
Each month, we take a deep dive into the state of the movie industry, with a focus on local Tucson projects. Every month, we will have a guest from who started in the Tucson independent scene and pry their brain for knowledge of filmdom while we hype their latest works. 
W
HY MOVIES MATTER
During the course of our podcast, we will go over details such as the past month's box office, the top wrung movies, independent film, Blu Ray and 4K releases for the diligent movie fan and ending with a on Tucson talent, including a podcast guest connected our local film industry.  
SHOW GOALS
We are here to educate and have fun discussing film. Explore what Tucson has to offer in a meaningful way and entertain while doing it. We have arrived!