ABOUT ~ Jeremy Sharpe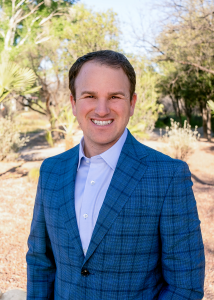 Jeremy was raised in Tucson, AZ, and received an undergraduate degree in Geography and Regional Development from the University of Arizona and his MBA from University of Arizona's Eller College of Management.  
Jeremy is a committed husband and father to his two children and has devoted his post-graduate life to creating a better life for the residents of his community through the built environment. As the Managing Partner of Rancho Sahuarita, Jeremy Sharpe is the second generation of leadership behind his late father, Bob Sharpe.  
Jeremy's leadership has continued to grow Rancho Sahuarita from its humble beginnings of a 3,000-acre piece of farmland and desert to a community that serves as a place that thousands of families are proud to call home.  Jeremy continues to evolve the community by setting into motion what it means to create a better life for those we work for and work with.  
His people-first development methodology has successfully created a bridge between the built environment and community connection, ensuring that our residents have everything they need to live a fulfilling and happy life right in their own backyard.  
Compared to other communities in the area, what sets Rancho Sahuarita apart the most is our commitment to our residents. We continue to add amenities to our community, whether it be through new commercial offerings or new parks, trails, and recreation amenities. Jeremy continues to fulfill his father's commitment to creating and sustaining lasting value for the community. Bob Sharpe acquired the land in 1993 and helped establish the Town of Sahuarita in 1994, and growth plans have allowed us to sustain and grow for years to come.  
Jeremy's long-term commitment to seeing the project through to full completion over the next 15-20 years and stringent financial management are what set us apart from other developers. Not only does Rancho Sahuarita provide a better life for its residents, but it also provides a better life for its employees. Jeremy's leadership has successfully created a company culture of being family-oriented, high-energy, curious, engaged, impact-focused, and resident-obsessed. Every person hired at Rancho Sahuarita is committed to the mission of "Creating a Better Life" by building impactful places and consistently works toward practicing that mission every day.  
COMPANY / ORGANIZATION WEBSITE URL: https://ranchosahuarita.com/   
COMPANY OR GUEST LINKEDIN URL: https://www.linkedin.com/in/jeremynsharpe/  
COMPANY OR GUEST TWITTER URL: N/A COMPANY / ORG FACEBOOK PAGE URL: https://www.facebook.com/ranchosahuarita/