The Edible Scroll
755 Monroe Rd.
Lake Monroe, FL 32747
For Such a Time as This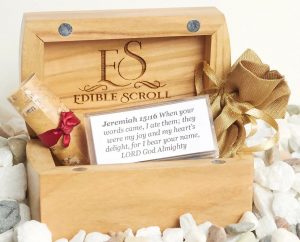 We are honored to introduce you to The Edible Scroll. The first of its kind, it is an edible scripture for the Body of Christ to use in prayer meditation, teaching, and fasting.
 The Bible tells us to eat the Word of God. Intellectually, we understand it to be food for our mind, body and spirit. It is likened to our daily bread. But there are many believers who still struggle with the idea of what is truly means to "eat the Word". Traditionally we understand that eating the Word of God means to partake of it by reading and meditating on it daily. Our hope and belief is by offering a new way to receive the Word, we will reach people in a new way, a way that enhances their prayer life and deepens their relationship with God.
With this in mind, we are offering the Word of God written with edible ink on edible wafer paper specifically designed to be eaten. We anticipate The Edible Scroll becoming a tool of empowerment that will help believers to become more familiar with God's Word and character. Each scripture has been purposefully and prayerfully chosen to edify, encourage, and educate, while serving as reminder to God's children of how He feels about us and what His Word can do for our lives. 
With the world in such a state of uncertainty, we believe there is no better time than the present for believers to experience The Edible Scroll. Our wish is to share The Edible Scroll around the globe. We would like to ask your support with helping us spread the edible Word of God with all whom you feel would be inspired and encouraged to eat the scripture.
We want to thank you for your consideration in helping us to spread The Edible Scroll to the world. May the Lord bless you and keep you.
Sincerely,
The Edible Scroll Family
For more info…please email us at info@TheEdibleScroll.com
Our guests and Co-Founders of The Edible Scroll – Karen Toth & Deanna Misko