In this episode, Jaime talks with Leslie Bosch, PhD about the effects of stress and the steps we can take the reduce that stress to live a happier, more productive life. If you have stress in your life, you'll want to listen in!
About Leslie Bosch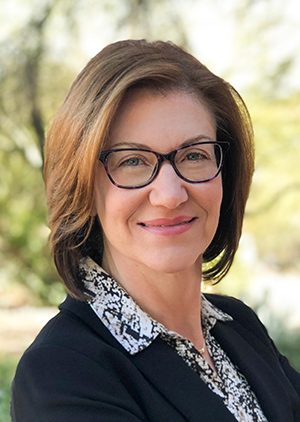 Leslie Bosch, PhD, is a developmental psychologist and a National Board Certified Health and Wellness Coach.
Dr. Bosch received her training as an integrative wellness coach from the Andrew Weil Center for Integrative Medicine. She helps busy professionals and entrepreneurs minimize the negative effects of stress so they can make a bigger impact without sacrificing their health, well-being, or personal relationships.
"I am originally from Denver, CO. I've lived in Tucson for 15 years. I came to Tucson to attend the U of A. I met my husband shortly after I arrived; I was a student in his college algebra class. We have a Chihuahua named Kobe.
"I got my PhD in Family Studies and Human Development. After I received my PhD, I tried to get a job in student services at the U of A without success. So, I started to think about other ways I could use my knowledge of human development to help people. That's when I thought about being a coach. I discovered that the Andrew Weil Center for Integrative Medicine had a coaching program. So, I enrolled.
"At that time, like many Americans, I was working long hours in a very demanding job. Unfortunately, I was also mismanaging my stress – in fact, I didn't even know stress management was a thing. I was eating lots of junk food, not exercising, and sleeping poorly. I was arguing with my husband because I was tense all the time, and I certainly wasn't having any fun. I didn't realize it at the time but I was unwittingly trading my well-being, my health, and my relationship satisfaction FOR success in my career!
"But, during the training, not surprisingly, my homework was to essentially "clean up my act" in all the 7 core areas of health, which I did. After several months of concerted effort, I began to feel better. I lost some weight; I was sleeping better; and I felt calmer, rested, and energized. I was feeling more connected to my husband. I was taking time to enjoy myself.
"I was so happy with my results that I took my efforts to the next level and became a National Board Certified Health and Wellness Coach. Now, I work with others to improve the quality of their lives, too.
"I provide health and wellness coaching, especially, stress relief coaching through my 90-day signature program called the Stress RESET Program."
The Stress RESET Program contains five science-backed strategies that fit together like pieces of a stress management puzzle that allow clients to upgrade (optimize) their response to stressful situations. Essentially, the program shows you how to keep an eye on your stress levels, regulate your emotions, apply your signature strengths and core values, achieve and maintain a flow state, and talk to yourself in ways that promote mental agility and emotional well-being.
All these proven strategies work together synergistically to keep you grounded and empowered, especially during stressful situations.
With the Stress RESET Program, I have helped clients deal effectively with a variety of stressful situations such as…
-Dealing with ever-expanding work demands
-Having difficulty sleeping
-Dealing with a new health crisis
-Passing a high-stakes exam
-Making a difficult decision like whether or not to divorce
-Dealing with conflict
-Adjusting to a new leadership position
-Negotiating a raise
-Dealing with presentation anxiety
-Working with a difficult boss
-Caring for sick parents
-Transitioning to retirement
-Prioritizing self-care
"I attribute my success to a unique blend of book smarts, street smarts, and empathy. Also, the synergy between the client and me. I love helping them come up with unexpected, fun, and creative ways to go about getting what they want. Change can be difficult but, I try to make if fun, easy, and enjoyable."
I work with clients one-on-one and in groups via Zoom.
I love seeing clients get what they want.
Socials:
https://www.linkedin.com/in/leslie-bosch-phd/
https://www.facebook.com/BoschIntegrativeWellness/
Self-compassion companion guide: https://boschintegrativewellness.com/selfcompassion
About Your Host
Jaime Overturf
Farmers Agent, Entrepreneur
2555 N Campbell Ave
Tucson, AZ 85719
(520) 293-2900
joverturf@farmersagent.com
As a local Farmers® agent in Tucson, AZ, Jaime Overturf helps customers identify the insurance coverage that best fits their needs. This process is straightforward and personalized to help make them more informed about their insurance options.
Jaime has the knowledge and experience to help customers better understand their coverage options–whether that Jaime has the knowledge and experience to help customers better understand their coverage options–whether that's auto, home, life, business insurance, and more. You can connect with Jaime on Facebook.